The Musical Theater .CAPITOL. in Wrocław is located in the historical building of the original CAPITOL cinema-theater built in 1929 based on the project of the excellent Berlin architect Friedrich Lipp. This object consists of three interconnected buildings:
– stage hall,
– hotel,
– administration building,
During the WWII period in 1939-1945, this object known as "the most beautiful cinema-theater on the European continent" lost the front façade and several floors. Also, the later "modernization" in the socrealizm or "socialist realism" style popular after the war lead to the downfall of this object. A general renovation of the object was performed by the Wrocław Operetta, which was a tenant of this object in 1989-90. At that time, the cinema-theater was also entered into the historical building registry and thus is subject to legal heritage protection, as an object providing splendor and style to one of the better known streets of Wrocław.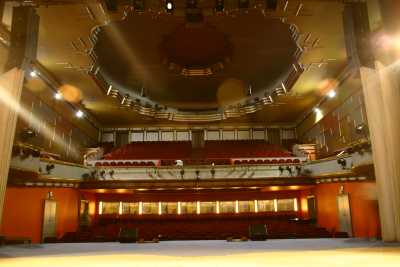 Taking into account the above, M.Ostrowski had a difficult task to fulfill, where being confined by the unique historical architecture of this object, it was required to install a modern sound system capable of serving audiences of up to 850 people.
The stage and orchestrion were provided with 8 connection boxes, capable of handling a total of 128 inputs. The sound engineer is then able to select 96 of these and feed them to an audio splitter, which divides the signals into 3 groups. The first group of signals is sent to linear/microphone preamplifiers and A/D converters located on the stage, from where it now runs in digital AES/EBU format, through a twisted-pair multi-conductor PINANSON cable to the FOH mixing consoles.
The second signal group is intended for the monitoring console, whilst the last group can be used for direct recording of performances or radio/TV broadcasts. The FOH desk consists of two digital YAMAHA DM2000V2 mixing consoles connected in a cascade and capable of accepting 96 digital audio signals from twelve eight-channel YAMAHA AD8HR linear/microphone preamplifiers.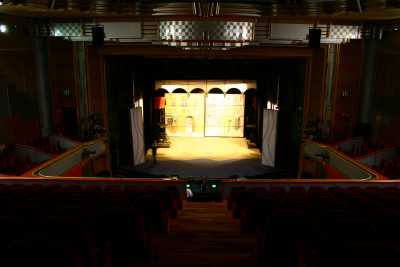 Use of these advanced digital consoles provides the sound engineers with many very useful features, such as automation of settings and memory of presets, whilst assuring excellent sound quality.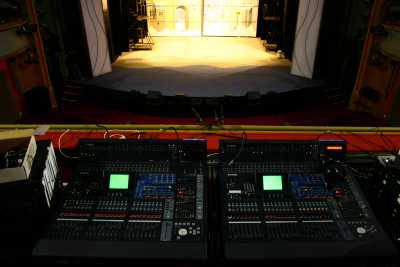 In order to make the system mobile (in case of tour performances), all devices were installed in dedicated cargo boxes, providing appropriate protection against rough shipping and equipped with multi-terminal connectors, which greatly reduce system setup time.