The broadcasting vehicle of Polskie Radio ("Polish Radio") in Gdańsk was equipped by our Company with an audio production system consisting of two Yamaha DM2000 v2 digital production consoles in a cascade setup, offering 192 mixing channels and direct access to 48 precision channel faders. The system uses fiber optics for audio signal transfer.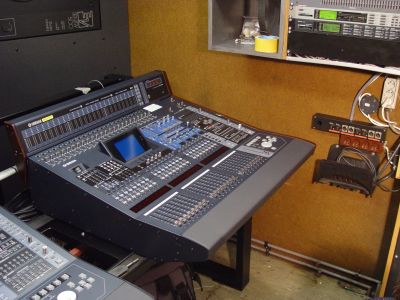 The system was custom designed to the specific requirements of a broadcasting vehicle using the most modern technology. Audio sources can be fed through microphone preamplifiers. Yamaha AD824 AD converters installed in three stand-alone transport cases, offering a total of 96 remotely adjustable inputs (within 72dB) as well as 24 return lines.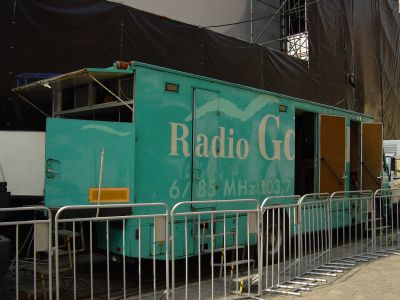 The AD converter boxes are connected using a reinforced shielded fiber-optic cable and can be moved away from the vehicle by up to 300m. This project paid very much attention to reliable and secure transmission, this included among others running addition redundant links between the main console and the broadcast vehicle for handling important events. The fiber-optic cable used for these types of connections has special carbon-fibre reinforcement.
Transmission is based on the Optocore system. Links between the AD converter boxes are carried out using a multi-pair cable, which is used for both digital audio and control signal transmission.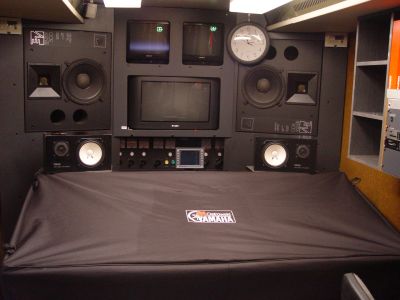 Furthermore, each of the consoles has 24 microphone / linear inputs connected to a patch panel as well as to multi-pair cable connection sockets in the rear of the vehicle. Each of the consoles also has 24 ADAT optical inputs and 24 ADAT optical outputs for connection to external HDD storage. This in turn allows for recording and playback of a total of 48 audio channels.
This configuration allows the broadcasting vehicle to operate practically under any conditions and to handle each kind of broadcast.