Ibiza Ice Cafe is a rapidly growing network of ice cream cafes in various towns throughout Poland. As part of an order the M.Ostrowski company provided design, delivery and installation of a complete sound system for the cafe at St. Anthony street in Wrocław.
Considering the function of the object, the system was split into 4 zones, each using 100V speaker technology. This type of distribution allows for independent adjustment of parameters, depending on the foreseen use of the areas within each of the zones.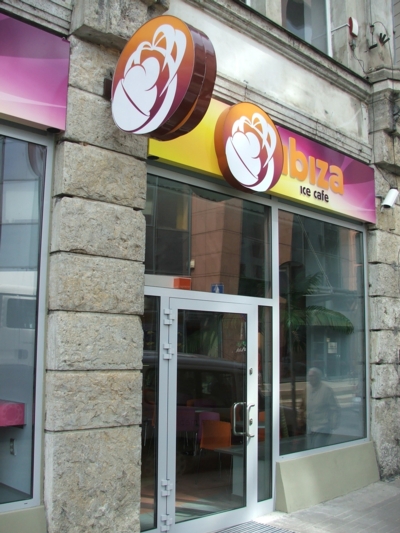 The central part of the system consists of a four-zone amplifier with a total sine output of 400W. This amplifier has 2 XLR microphone inputs and one linear RCA input. In addition to this, channel 3 allows for selection from of one of the three interconnected sound sources.
The above system also includes a nonsymmetrical TS output for a subwoofer set.
Zone 1 includes 21 ceiling speakers arranged in clusters, which assures an optimal sound coverage for all guests. During system tuning it was decided to switch the speakers in the vicinity of the bar to a lower amplification output of the transformer, which greatly improved the work comfort for the staff.
It was agreed with the investor, that at this time only cabling will be installed for zone 2, to provide sound in the future for the guest hall. Considering this, zone 2 consists of four wall mounted speaker sockets.
Considering the size of this room, there is also a socket for an active subwoofer set. In this application this consists of an APART SUBA 165 active subwoofer set, which nicely fills in the low-range sounds.
Zone 3 covers ancillaries such as bathrooms, kitchen or the social room, which are all equipped with ceiling speakers. Additionally, the connection of the speakers in the social room was routed through a dedicated regulator, allowing for independent volume control adjustment, as might be needed.
An interesting sound solution consists of APART CM3T-BL speakers mounted outside in the sign-board. These speakers comprise the last, 4th sound zone of the system.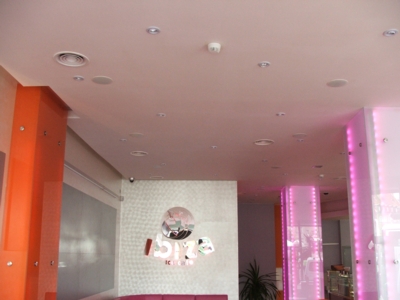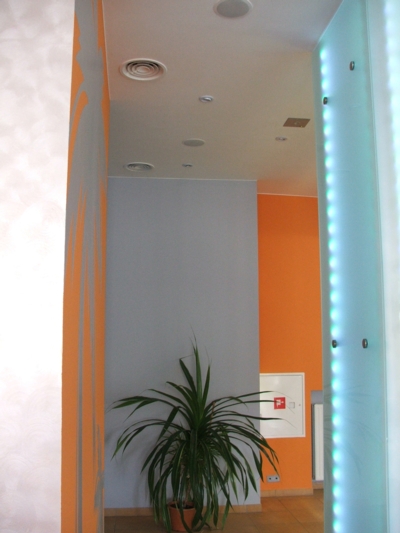 In order to take full advantage of the installed amplifier, the system also foresees an additional DJ socket at the guest hall, which makes the system more universal and functional.
Creating an all in one system, the sound source consists of a universal player, which besides CD and MP3 formats also has a built-in tuner and USB port.
The know-how and experience of our employees, integrating also services from other suppliers, allowed for installation and launch of a fully modern and functional sound system at the IBIZA ICE CAFE.