In 2009 we took part in a consortium with Aplauz Sp. z o.o. and provided modernization of the intercom system as part of the order for: "Supply including installation, assembly and commissioning of the stage managers system for the Gustaw Holoubek Drama Theater of Warsaw".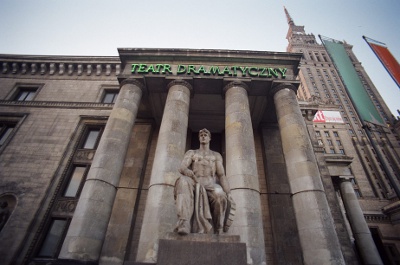 This theater, having its seat since 1955 in Palace of Culture and Science, has two stages: the main stage and small stage. The intercom system provides communications on both stages as well as between stage managers and five technical support employees – acoustics technicians, light technicians, scene mechanics etc. The system was based on a Riedel Performer 32+16 digital intercom matrix. The modularity of this unit allows for quick and easy expandability with further intercom stations, whilst digital signal transmission provides top signal quality and better immunity to electromagnetic interference. The matrix itself allows also for routing of audio signals from stage audience microphones to PA broadcast amplifiers. System configurations allows the stage manager to prioritize audio sent to the change rooms, overriding the local volume setting, e.g. if the artist at the given room lowered the speaker volume. In order to assure continuous system operation even in the case of power supply failure, the matrix was equipped with a redundant power supply.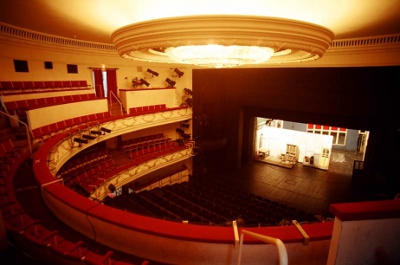 User intercom stations were based on Artist 2100 LCD units. The stage managers were provided with rack-mounted RCP-2116P4 units, whilst the remaining users were equipped with DCP-2116P desktop stations. The intercom system compliments the stage messaging lights system, the earlier mentioned PA system and scene monitoring system. In order to assist the stage managers work, the control desk was also equipped with a clock and stopwatch.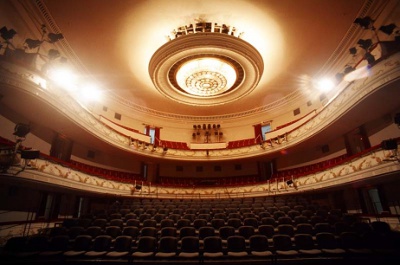 The intercom system installed at the Drama Theater allows for: 
1. point-to-point communication between any of the intercom stations, 
2. light messaging: single-way or two-way communication between the stage action confirmation points and the stage manager, 
3. single-way broadcast communication to areas like the foyer, changing rooms or the hallways, 
4. single-way chime messaging for the artists and audience, 
5. transmission of light signals, such as "SILENCE", 
6. scene and audience audio monitoring, 
7. ability to connect the stage managers stand at two different parts of the main scene. 
The Drama Theater system is a fully expandable and freely configurable intercom system. One of the most important characteristics of this system in view of the user is the ease of operation and high reliability, which is of key importance for all stage productions.