The Wrocław Opera House, having an almost 200 year history, is one of the largest (736 seats, cubature of 4200 m3 and 440 m2 stage) and best known opera houses in Poland. The sound reinforcement system installed by us at Wrocław Opera House is the first one in Poland with digital signal transmission used throughout the entire system. The complexity of this project can be easily summarized by the number of weld points (8 000) or the total number of signal and fiberoptic cables, exceeding 10 000m.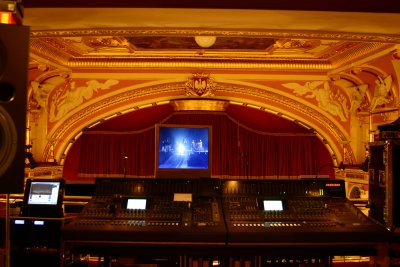 The novel, dedicated solution is aimed at convenience, sound quality and the ultimate spectator experience. The basic idea of the design is that only digital signals are sent between different localizations of audio equipment and audio processing is performed digitally, being change to the analog form at the target devices – i.e. active speakers or just before the power amplifiers, in case of use of passive speakers.
Sound engineers, aside from common guide, can control settings of all important devices (consoles, wireless systems, loudspeakers processors, loudspeaker cabinets) through the wireless tablet from any location within the Opera House. Sound reinforcement system can work in surround 5.1 mode or frontal system 3.1, 2.1, 2.0.
All the signals from orchestra or stage are sent to 96 inputs of an analog splitter which divides output signal into two groups. The first group of signals is prepared for outside broadcast/media vehicles. The second group of .direct. signals is designed to feed microphone preamplifiers with built in A/D converters. Then, all the 96 signals are sent to audio system using fiber optic cables. Signals from FOH (Front Of House), stage and amplifier room are transmitted through 512 digital channels system by Optocore. Digital audio feed gets picked up wherever it has to get picked up. Line loss is non-existent, and there is no worry about ground loops.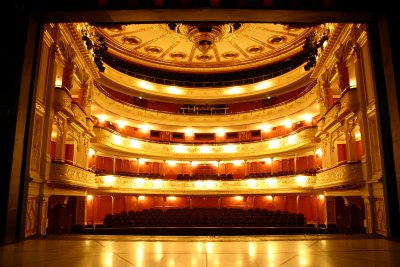 FOH console is configured as a cascade of two Yamaha DM2000 v2 digital consoles. It provides 48 microphone or line analog inputs, 192 digital in/out and 192 mixing channels. You can control microphone preamps (switching a phantom power on/off, gain setting, HPF setting) located at the stage from FOH console directly or from monitor console (Yamaha DM2000 v2).
Surround sampling processor Yamaha Srev1 gives a possibility to use a variety of reverberations taken from different places. Sound engineer can choose between a pre-built reverberation time adopted from most famous concert halls throughout the world or record his own definitions and apply it in the Opera House. The number of players and recorders (CD, DVD, SACD, CF, MD) enables impressive sound illustration during the theatre shows.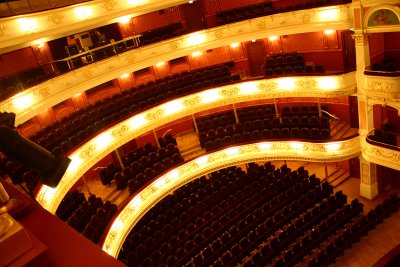 The great advantage of the FOH is its mobility. It can be placed either on the balcony or in the control room. It is possible due to rails and wheels on which FOH is installed, two wire locations and a few multi pin connectors. It makes the moving operation very fast and easy. The video monitor installed at FOH provides display monitoring of the stage even if the curtains are down.
Control room studio monitors (Yamaha MSP10 with MSP10SW) configuration is accordant to Surround 5.1 standard.
Audio-Technica 24 channel wireless system with the frequency-scan function enables automatic assignment of clear open channels. System is equipped with Countryman and Audio-Technica head worn microphones for body-pack transmitters. Performers can use Sennheiser wireless personal monitoring system. Opera House is equipped with many different wired microphones from AKG, Audio-Technica, Neumann, Senheiser and Shure.
In order to process the signal to loudspeakers there is a cascade of two multipurpose Yamaha DSP DME64N (Digital Mixing Engines). Every loudspeaker gets its own independent signal. The maximum number of signals is 128. The heart of reinforcement system are Renkus-Heinz ST series active cabinets equipped with Cobra-Net. R-Control provides current loudspeaker parameters monitoring (power, transducer on/off, temperature, impedance). The idea of .subwoofer array. was used to create directional sound at low frequencies. On stage monitors are passive Renkus-Heinz and d&b Audiotechnik loudspeakers.
The Opera Sound Reinforcement System designed and built by engineers from M.Ostrowski company proves its great integrality with the old house and guaranties a perfect sound performance to the audience.