Gliwicki Teatr Muzyczny ("GTM" – Gliwice Musical Theater) established in 2001 inherited and continues the excellent traditions of Operetka Śląska (Silesian operetta), which existed since 1952.
This theater can seat a total of 460 people in its main auditorium, left and right balcony boxes and the central gallery.
In November 2004, M. Ostrowski carried out a public tender project for GTM, titled: "Supply, assembly and commissioning along with fine-tuning of professional speaker sets".
This project included supply and installation of the following audio system components:
– front stage sound system,
– digital audio console,
– audio system power supply,
– along with the required adaptation of the orchestrion,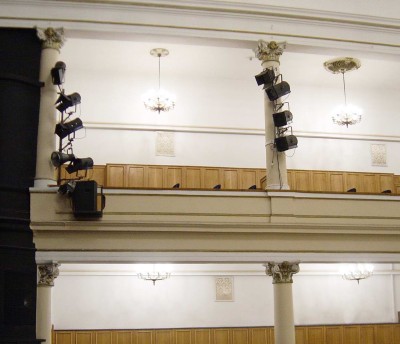 The front stage sound system for spectacles and other musical performances was based of active RENKUS-HEINZ speaker sets. It included two 2-way, wide-range PN121 loudspeakers for each of the audio channels (i.e. the right and left channels) along with another two 2-way, wide-range PN61 loudspeaker sets . one for each of the channels. The purpose of this system is to lower the apparent sound stage to "submerge" the audience. This system also included four passive PNX112 subwoofers, fed by two YAMAHA P7000S power amplifiers. These subwoofers were installed in such a way, as to significantly reduce the off-axis comb-filter effects, as well as to achieve a directional characteristic for the low frequency sounds.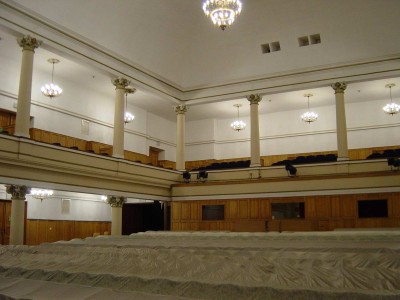 The above system is complemented by a digital YAMAHA 01V96 audio console, which was added to the theater.s existing analog console.
The project included also acoustical adaptation of the orchestrion, which comprised of installation of Heraklith acoustic wall panels.