Kielce Cultural Center (KCK) is establish in December 1992 as the result of the merger between the Kielce Culture Center and the Municipal Cultural Center.
The KCK object consists of three sectors:
A. Administration and social facilities along with the orchestra rehearsal room.
B. Main stage, including the main auditorium, foyer and dressing rooms.
C. I. & T. Byrscy Chamber Hall, including the backstage facilities and dressing room.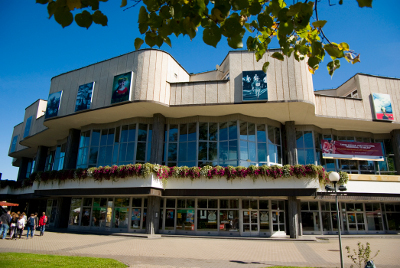 The main stage is one of the largest in Poland, having almost 520 m2. It includes two revolving scenes, one 15m and one 5,5m diameter. It also features and orchestra pit for up to 60 musicians. The panoramic fan-shaped auditorium is capable of seating 700 spectators.
The small stage, whose size can be adjusted based on the will of the show directors, is capable of accommodating up to 190 spectators.
M.Ostrowski took part in the unlimited public tender ZP-KCK/7/2008 on 09-10-2008, for the "Supply of monitoring and remote notification systems for the Main and Small Stage of KCK" and supplied and commissioned under the contract:
1. Intercom system
2. Stage audio monitoring system
3. Integrated the video monitoring system with the intercom system
4. Modernized the PA system
The stage manager system was based on the RTS/Telex Matrix. All system functions are carried out using the following devices:
1. RTS CRONUS digital intercom matrix.
2. RTS KP-32, RTS DKP-8PB stage manager's intercom control panels.
3. CF TASCAM SS-R1 compact flash audio recorder/player
4. SENNHEISER K6P + ME66 stage monitoring microphones
Communication is carried out in full-duplex mode using wired intercom stations. Connectivity is possible between:
Main Stage (MS):
Main stage manager.
Technical manager
Conductor in the MS orchestra pit
Director in the MS audience
Acoustics technician in the MS audience
Acoustics technician in the 1st MS cabin
Acoustics technician in the 2nd MS cabin
MS monitoring acoustics technician
Light technician in the MS cabin
MS dispatcher.
Small Stage (SS):
Small stage manager
Acoustics technician in the SS Cabin
Acoustics technician at the SS audience
SS Light technician
Director in the SS audience
The intercom system includes a public address system, allowing for broadcast of audio messages and stage/audience monitor audio to selected speaker zones.
Main Stage (MS) audio broadcast zones:
scene, right, left and rear stage pockets, mezzanine, foyer, corridors, toilets, cloak room, dressing rooms, administration facilities, workshops, cabins, paint shop, assembly room, decoration stockroom, costume stockroom, scene technician corridors, actors' waiting rooms, choir, ballet, soloist and orchestra rehearsal rooms.
Small Stage (SS) audio broadcast zones:
scene, foyer, lobbies, cloakroom.
The integration of the video monitoring system with the intercom system allows the stage manager to view camera video sent using TV channels, from the technical rooms, acoustics technician cabins, light technician cabin and selected administration facilities.
The supplied system was installed according to the project prerequisites, fully fulfilling the requirements of the object and all stated requirements.