In the second half of 2012 M.Ostrowski Sp.j. delivered and installed an electroacoustic, audiovisual and interactive floor system at the Lodz Fine Arts Academy (Akademia Sztuk Pięknych) Fashion Promotion Center.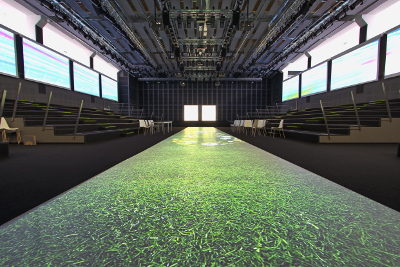 The system implements some of the most modern technical innovations available on the market, allowing for: 
• sound amplification for a variety of artistic events, 
• sound amplification at the main Aula for lectures and classes, 
• stereo and mono sound engineering, 
• live 60 channel mixing using a digital sound console, 
• supply of radio and TV audio feeds, 
• remote management (switching on/off and volume adjustments) of signals through a multitasking audio signal processor. Among others, from the various sources plugged into the multimedia input (e.g. portable computers, MP3 players etc.). Control of wireless microphone audio levels during the lectures as well as control of the rack mounted players, 
• control of the front video projector, 
• control of the video projection screen, allowing for its adjustment via touch-screen panels, 
• selection of projector video sources via touch-screen panels, 
• display of presentations on the interactive floor, 
• creation of individual interactive floor presentations, using the supplied software package.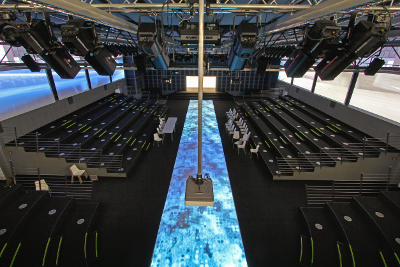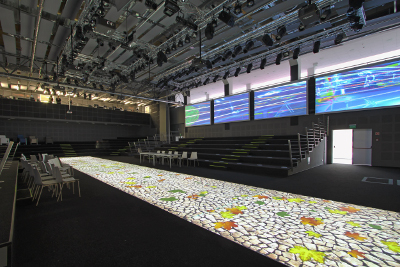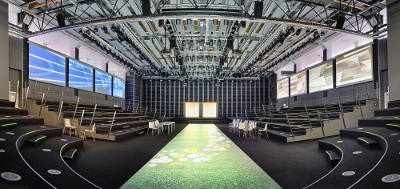 M.Ostrowski Sp.j. supplied and installed a sound system, comprising among others of: 
• 20 wide-range passive speaker sets TW AUDiO M12, 
• 6 passive subwoofer sets TW AUDiO BSX, 
• 3 active subwoofer sets Renkus-Heinz PN212SUBR, 
• 9 power amplifiers Powersoft K3DSP, 
• Digital console Digico SD8, 
• Multitasking signal processor TIMAX2 Soundhub S.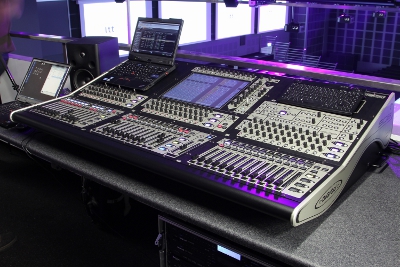 The entire system was optimized and tuned by experienced employees using EASERA SysTune Pro 1.2 software 
The contract also included supply, installation and commissioning of an audiovisual system, comprising among others of: 
– Crestron control system, 
– Sony VPL-FH30 projector, 
– Projecta electrically extended projection screen, 
– Tascam multimedia players. 
M.Ostrowski Sp.j. fitted the runway for models with an interactive floor having 24 m length x 3 meters width, capable of displaying 2 x Full HD video. The supplied software graphics engine allows for real-time display of 3D stereoscopic images. At this time this is the longest interactive floor in Europe and second in the world.